The
Pamlico Sail & Power Squadron (PSPS)
is involved in a number of key Civic Service functions and projects supporting safe boating within the local Pamlico Sound recreational boating community. Promoting boating safety through Education is a key mission of the squadron. Visit our Education sections on this website to learn more about the seminars and boating classes available to the public.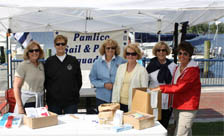 National Safe Boating Week is sponsored by the National Safe Boating Council. PSPS participates as a way to further emphasize the importance of safe boating and, in particular, wearing a life jacket. PSPS encourages you to practice safe and responsible boating throughout the boating season, always wear your life jacket, and be alert and aware while on the water. By practicing these simple steps you can save your life as well as the lives of the people boating with you and those boating around us. National Safe Boating week for 2018 is May 19 through May 25. Watch for our local promotion of this event, visit our waterfront tent and get a free Vessel Safety Check.

Cooperative Charting is a joint effort between United States Power Squadron® and National Oceanic & Atmospheric Administration (NOAA). NOAA is responsible for the production of up-to-date navigation charts used by recreational boaters as well as commercial shipping. Keeping nautical charts up-to-date and accurate is a difficult job due to the constant changes caused by wind, tide and man. PSPS volunteers assist with this effort by organizing specific boating events to gather and record corrections to water depth, bridge heights, buoy locations and man-made features which are then reported to NOAA by the squadron. PSPS also participates in NOAA's Adopt-a-Chart Program. Our Chart is "11554". We invite you to contact our Executive Officer, Bill Templeton at 252-833-4557 or via This email address is being protected from spambots. You need JavaScript enabled to view it. if you are interested in participating in this project. It's a great excuse to get out on the water!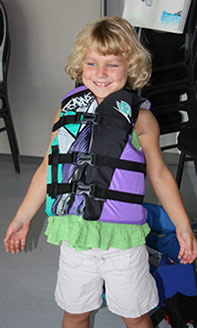 Beginning in 2014, PSPS began working with local youth groups which allow children to participate in a United States Power Squadrons® National Youth Poster Contest with the possibility of monetary rewards. This is a wonderful opportunity to talk with groups of children first about basic boating safety skills, life jackets, etc., and at the same time, give them instruction relating to the poster design. The Contest is open to all children in age groups consisting of 6-8 years, 9-11 years and 12-14 years. The purpose of the contest is to further youth appreciation of the water and how "safe" boating is "fun" boating. A theme is chosen each year in conjunction with the Safe Boating Council.
If you enjoy working with children and would like to participate in this effort, contact Sharon Alligood at 252-946-5720 to learn how you can become involved.
Annually, PSPS conducts a customized Hurricane Preparedness Seminar for residents of Beaufort County. This is a seminar coordinated by our Education Department and includes knowledgeable speakers such as a forecaster from the National Weather Service in Newport, NC; the Emergency Manager of Beaufort County; an Emergency Manager and Dock Master from local on-the-water communities and marinas. The emphasis is to be prepared by developing a plan; reviewing that plan prior to any serious weather conditions making necessary changes as advised by the authorities; and the cautions that should be taken after the storm at home and around boats.
PSPS Port Captains is a group of PSPS Members who stands ready to provide advice and assistance to USPS members and transient boaters traveling into our boating area. Their primary expertise lies in their knowledge of local waters and unmarked hazards to safe navigation of the Pamlico River and surrounding area. The objective is to provide information, reliable advice and comradeship. They can recommend mechanics, sail makers, and repair yards, as well as medical facilities. Their aim is to make fellow transient boaters and fellow USPS members feel they are welcome. Our Port Captains are Tom Miller (252-975-6479) and John Rebholz (252-402-7617).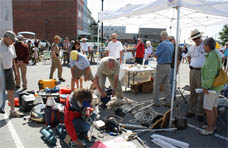 Washington Marine Market has been a huge success on the Washington Waterfront each year. PSPS participates with a Booth filled with member-donated boating equipment and boating-related items for sale. PSPS members volunteer to help at the market or donate items for sale. Proceeds are used to support public boating safety within the county.

If you would like to help, contact Executive Officer, Bill Templeton at 252-833-4557 or via This email address is being protected from spambots. You need JavaScript enabled to view it..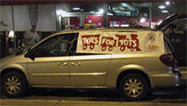 Our squadron has been instrumental in the United States Marine Corps Toys for Tots collection project for several years. Community response is terrific each year. We continue to support this worthy cause for deserving children in Beaufort County. PSPS also joins volunteers across the nation as Salvation Army Bell Ringersduring each holiday season. The Red Kettle Campaign provides food, toys and clothing to over 6 million people during the holiday season and helps more that 34 million Americans recovering from all kinds of personal disasters nationwide.
Certified Vessel Safety Check (VSC) is an excellent way to make sure your boat is ready for fun-filled, worry-free outings. Ensure your boat has all the necessary safety equipment by getting a VSC before boating season. Best of all, it's FREE to the public. Visit our Calendar for specific dates or contact Fred Schroeder, PSPS Vessel Safety Check Chair, at 252-948-0682 or email PSPS Vessel Safety to set up an individual appointment for your VSC.