Free

Vessel Safety Check

A Vessel Safety Check is a courtesy examination of your boat (Vessel) to verify the presence and condition of certain Safety Equipment required by State and Federal regulations. The Pamlico Sail & Power Squadron Vessel Examiner is a trained specialist and a member of the United States Power Squadrons®. They will make certain recommendations and discuss safety issues that will make you a safer boater.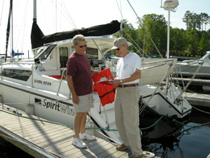 This is not a "boarding" or a law enforcement issue. No citations are given as a result of this encounter, simply suggestions to improve your safe boating experience. We will supply you with a copy of our evaluation so that you may follow the suggestions given. Vessels that pass will be able to display the distinctive VSC decal. This does not exempt you from law enforcement boarding, but you will be prepared to make any boarding a positive encounter.Pictured to the left is Fred Schroeder and below on the right is Bill Ramsden conducting Vessel Safety Inspections.

The following will be covered when our Inspectors conduct your Free Vessel Safety Check utilizing the United States Power Squadrons® VSC
Pre-Check List:
Required Boating and Safety Equipment

Display of required numbers

Registration and Documentation

Personal Flotation Devices (PFD's)

Visual Distress Signals (VDS or flares)

Fire Extinguishers

Ventilation

Backfire Flame Control

Sound Producing Devices

Navigation Lights

Pollution Placard (vessels of 26+ feet)

Marpol Trash Placard (vessels of 26+ feet)

Marine Sanitation Device (head)

State Regulations

Navigation Rules

Overall Vessel Condition (Deck free of Hazzards, Electrical/Fuel Systems, Galley/Heating Systems
Prior to scheduling or attending a Vessel Safety Check, you can read about doing a self-exam to check your own boat.Simply Click Here.
Many insurance companies offer additional discounts as a result of passing a Vessel Safety Check.
The VSC Inspectors conducted over 100 inspections in 2017 and hope to reach more in 2018 to contribute to boating safety in our local waters. PSPS has scheduled a number of Free Vessel Safety Check Events, review our VSC Calendar to the right. Call any one of the following PSPS Examiners located in the Washington, NC area for an appointment or email: This email address is being protected from spambots. You need JavaScript enabled to view it..
| | |
| --- | --- |
| Name | Telephone Number |
| Fred Schroeder Chocowinity, NC | 252-948-0682 |
| Carl Erickson Belhaven, NC | 252-964-3009 |
| Ed Mann Chocowinity, NC | 252-946-3623 |
| Frank Machi Chocowinity NC | 252-833-4601 |
| Bill Sholl Chocowinity, NC | 252-940-1989 |
| John Rebholz Chocowinity, NC | 252-940-1242 |
| Bill Ramsden Chocowinity, NC | 252-946-6307 |
| Stan Ramsden, Washington, NC | 252-974-2745 |
| Doug Smith, Chocowinity, NC | 252-940-0204 |
| Bill Templeton Chocowinity, NC | 252-833-4557 |
| Joe Sevick Chocowinity, NC | 215-589-5723 |