One of the main goals of the United States Power Squadrons® (USPS) and Pamlico Sail & Power Squadron (PSPS) is "providing superior boating education". We believe that an educated boater is a safer boater. PSPS provides skill building opportunities to the general public through a variety of courses, seminars and learning guides. Our instructors are certified regarding their ability to teach the topics offered and in the use of modern instructional techniques. All classes are fun and informative, and bring you into contact with other boaters.
America's Boating Course
This course is for all boaters including skippers of a family cruiser, sailing enthusiasts, fishermen, personal watercraft (PWC) operators, canoe, kayaks and paddlers. In addition to the rules of the road, the course covers the various types of boats, required safety equipment, navigation aids, lights and sounds, anchoring, communications afloat, adverse conditions, water sports safety, trailering, personal water craft safety, and knots and lines. The last chapter provides an introduction to digital charts and GPS waypoint navigation, a key skill for boating on larger lakes and rivers and coastal waters. To learn more about convenient ways to take this course at Home or In the Classroom or Online, click here.
Special Offering


Gain a 6-month FREE USPS/PSPS Membership for those students completing the America's Boating Course.

Also, completion may qualify the owner for a discount from most boating insurance companies.

Important Notice


Completion of this course meets the 2010 NC Boating Law Change requiring certification for any person under 26 operating a vessel with a motor of 10 horsepower or more.
Public Seminars
These short seminars are targeted to specific topics and needs with a two to three hour format, and valuable take-away guides. Each seminar provides credits toward the Boat Operator Certification program and credit toward elective courses.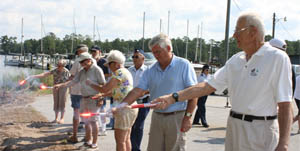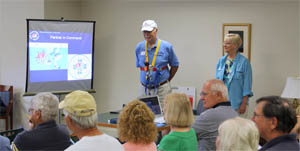 Flare Demo Seminar Instructors: Don Dunlap and Donna Dunlap
The following seminars are available. Be sure to check the PSPS Calendar for the dates and convenient locations of courses planned during 2018.
| | |
| --- | --- |
| Advanced Power Boat Handling | Man Overboard |
| Anchoring | Marine RADAR |
| Basic Coastal Navigation | Mariner's Compass |
| Basic Weather & Forecasting | Paddle Smart |
| Boat Handling under Power | Partner in Command |
| Boating on Rivers, Locks & Lakes | Practical On-Water Training |
| Crossing Borders NEW | Rules of the Road |
| Emergencies on Board | Sail Trim and Rig Tuning |
| Fuel & Boating | Tides & Current |
| How to Use a Chart | Trailering Your Boat |
| Hurricanes and Boats | Using GPS |
| Knots, Bends and Hitches | Using VHF and VHF/DSC Marine Radio |
| Mastering Rules of the Road | |
United States Power Squadron® continues to develop meaningful seminars and, as they are released, our Pamlico Sail & Power Squadron will fit them into the Educational Program. To learn more about the Seminars available click on USPS Seminars.
Learning Guides
USPS Learning Guides are self-study handbooks on specialized boating-related subjects of interest to amateur skippers and navigators. Topics range from GPS to Knots, Bends & Hitches; from Amateur Radio to Oceanography, from Boat Design & Construction to Navigational Astronomy and How to Fly Flags. These Guides are available through our Educational Department, simply email to PSPS Education for more details.
One of the best ways to have a fun boating experience is to "know before you go".
Beyond these courses, seminars and learning guides offered to the public, PSPS also teaches a large number of Elective Courses and Advanced Grade Courses ranging from basic deck seamanship to advanced navigation and engine maintenance. Many USPS members feel these courses are the top reason for joining USPS.
The Pamlico Sail & Power Squadron is fortunate to have a large number of certified instructors within the Education Department led by our Education Officer, Linda Erickson and our Assistant Education Officer, Kelly Adams.
We hope to hear from you soon or see you in our next classroom. If you would like more information relative to the public courses and seminars offered by the Pamlico Sail & Power Squadron, email This email address is being protected from spambots. You need JavaScript enabled to view it..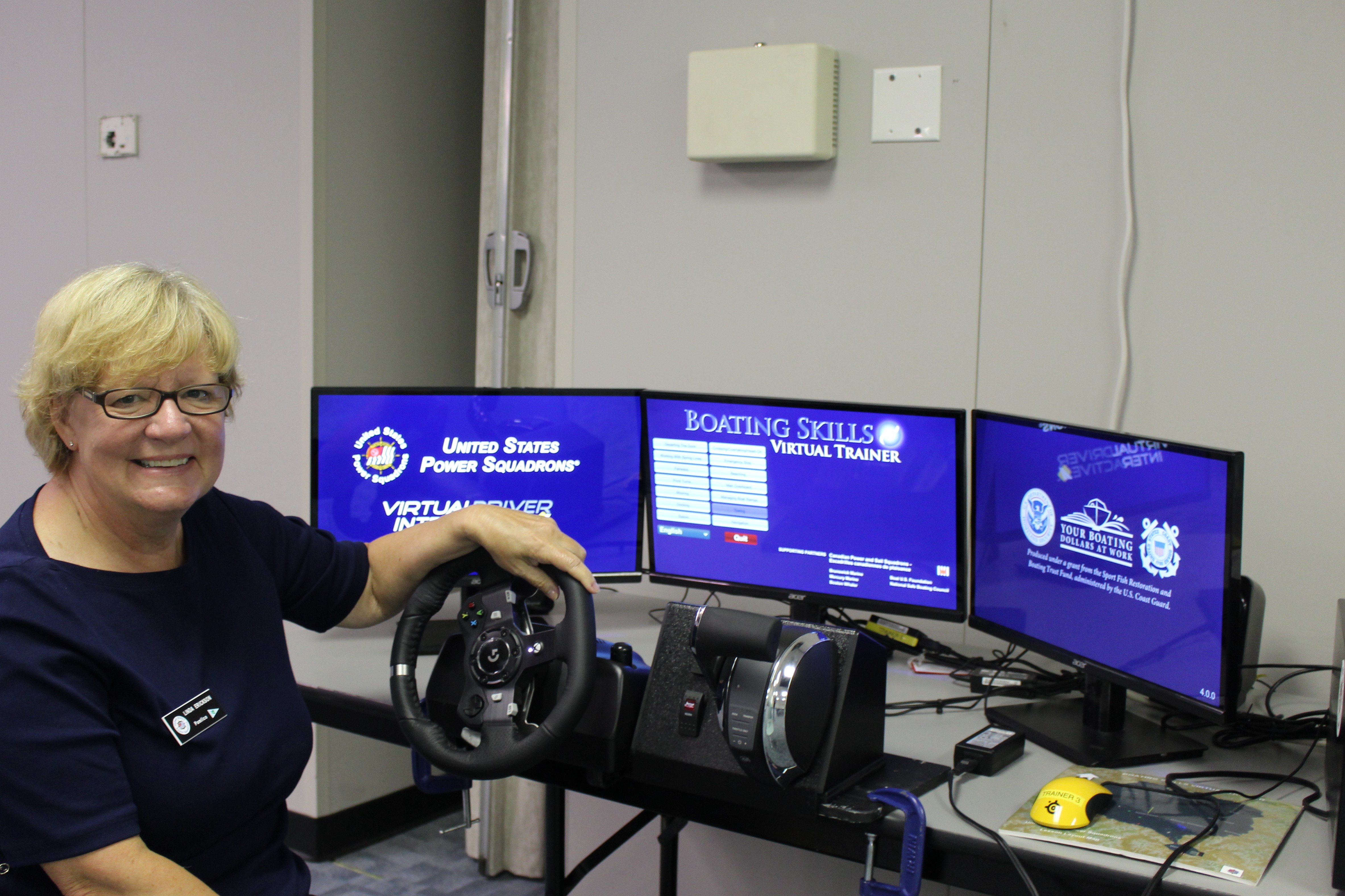 The Boating Skills Virtual Trainer (BSVT) was used to reinforce the concept of docking and trailering during high wind and currents during an Americas Boating Course.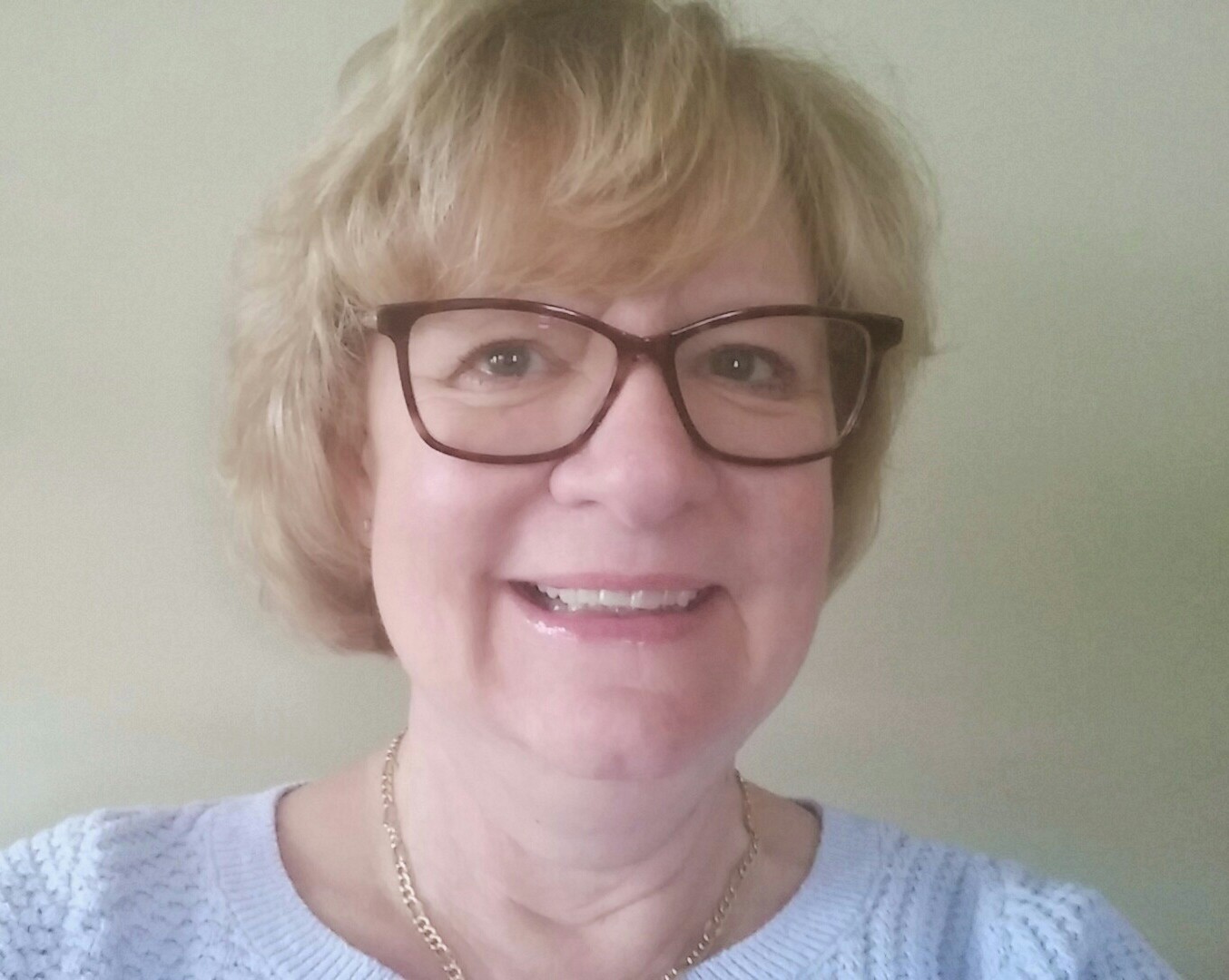 Pictured is our Education Officer, Linda Erickson (telephone 252-964-3009).