In addition to its Public Education Program, United States Power Squadrons® (USPS) and Pamlico Sail & PowerSquadron (PSPS) are now able to offer these member classes to non-members.
Engine Maintenance covers the operating principles and basic care and maintenance of outboard and inboard engines, including diesels. There is coverage on winter storage and spring servicing that includes a 25-step check list.
Marine Electronics covers installation and/or maintenance of both boat electrical systems (AC and DC) and marine electronics (VHF radio, radar, GPS, etc).
Crusing & Cruise Planning covers topics of interest for someone planning a cruise – whether for just a weekend or for a year – including preparation and planning, anchoring, security, chartering, and cruising outside the US.
Weather covers weather forecasting and reading weather patterns on-board our coastal waters.
Sail covers everything from the basic elements of how a sailboat works to sail trim, rig tuning, and sailboat racing.
United States Power Squadron® continues to develop and revise meaningful courses and, as they are released, the Pamlico Sail & Power Squadron will fit them into our Educational Program. To learn more click on USPS Elective Courses.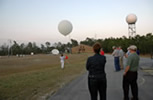 Many of our members have gone beyond a student developing boating skills to qualified instructors. It's very rewarding.
Instructor Development course teaches effective communication skills for PSPS instructors, covering various methods of presenting information to others, effective use of audiovisual aids (including PowerPoint), etc.
PSPS has developed an Instructor Apprentice program which will assist in bringing additional members into the team of certified instructors. If you are interested, please email PSPS Education.
Be sure to review the PSPS Calendar for the dates and locations of the 2018 planned courses.
Pictured at right is our Education Officer, Linda Erickson and Kelly Adams, Assistant Education Officer.
If you don't see a course that you are interested in, send in your suggestions by emailing PSPS Education. Your input helps the Education Department in providing the courses that meet our membership's interests.