In addition to its Public Education and Elective Courses, United States Power Squadrons® (USPS) and Pamlico Sail & Power Squadron (PSPS) teaches a series of Advanced Courses for those who wish to continue building their boating skills. We invite you to become a member and indulge your love of boating. There are Five Advanced Grade Courses offered by PSPS. They are designed to be taken in the listed sequence because each builds on skills taught in the previous course.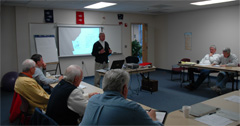 Seamanship covers basic deck seamanship, marlinspike (knots and ropes), anchoring and rafting, basic boat care and maintenance, and nautical and USPS customs and etiquette.
Piloting is the first and most basic navigation course, covering chart reading, course plotting and basic coastal or inland navigation, including basic GPS usage. This course goes into more detail than the charting information covered in the public courses.
Advanced Piloting covers more advanced coastal navigation techniques, navigation in tides and currents, and more advanced GPS usage.
Junior Navigation

teaches the basics of offshore navigation, including basic celestial navigation using the sun and offshore course planning.
Navigation

is the most advanced navigation course taught by USPS,covering more advanced celestial navigation techniques, emergency navigation, and additional sight reduction techniques.
United States Power Squadron® continues to develop and revise meaningful advanced courses and, as they are released, the Pamlico Sail & Power Squadron will fit them into our Educational Program. To learn more click on USPS Advanced Courses.

Boat Operator's Certification (BOC) Program
With the Boat Operator's Certification Program, United States Power Squadrons® will certify members at various levels of recreational boating proficiency. We expect that these certifications will be recognized across the boating community, both domestically and internationally. In the United States the United States Coast Guard (USCG) has asked Congress to authorize the Transportation Secretary to establish requirements for standards of proficiency for recreational boaters. We intend to have USPS certification accepted as the above proof and be accepted as the national certificate for the USA. Regarding international recognition, we plan to have certain USPS certifications meet or exceed the requirements of UN Resolution 40, International Certificate for the Operation of Pleasure Craft. Under this resolution, boaters holding national certificates will be able to obtain international certification, much like licensed drivers can obtain international drivers licenses. USPS currently plans four levels of Boat Operator Certification:

• Inland Navigator
• Coastal Navigator
• Advanced Coastal Navigator
• Offshore Navigator

Click here for more details on this program, or call our Education Officer, Linda Erickson at 252-964-3009 or email PSPS Education.

Remember, your input helps the Education Department provide the courses that meet our membership's interests. Let us hear from YOU. Contact Linda Erickson, Education Officer at the above number or simply email PSPS Education.

Visit our PSPS Calendar for dates and locations of the courses planned for 2018.